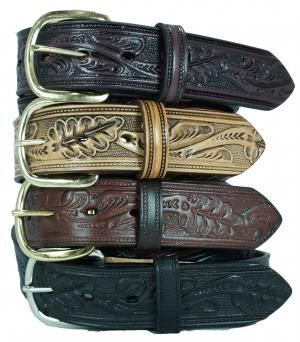 The easy thing about giving gifts to men is that males are generally less choosy than their female counterparts. This makes it relatively less problematic to think of gift ideas for them. However, this does not mean you should not put much effort in considering what is perfect for your special man. This is exactly where personalized handmade leather belts come in.
What exactly makes personalized leather belts the perfect gift for men?
First of all, men will always wear leather belts. Regardless of whether it's formal wear or casual wear, since most men tend to wear pants more than any other type of lower garment, leather belts for men are some of their most commonly used clothing accessories. Leather belts are versatile enough to be worn with jeans, slacks, khakis, and almost any type of pants. A personalized leather belt will not only be a unique gift idea but it will also be a very useful one.
Second, only a few generic gift ideas bring out a man's character. Sure, some mugs can be very masculine but they are too common to bring out any personality. Ties carry personality but not everyone wears neckties regularly. Watches, on the other hand, can be a real find but giving one requires knowing the recipient's taste and preferences. The problem is that these things (taste and preferences) change in time. So what your man considers a great timepiece at the moment may not be as great several weeks from now. What then?
With personalized leather belts, however, you can bring out a man's character and not be worried about how trendy your gift is. Leather belts are not just classic. They are also timeless. And depending on how they are designed, these belts can bring out a man's elegance or loudness.
Cowboy belts, for example, scream ruggedness and toughness. Dress leather belts, on the other hand exude refined elegance and class. You can even go as far as to customize details like brass buckle engravings or even overall basketweave surface layout. It's a perfect way to compliment your man while providing him a basic clothing accessory.
Third, whether they admit it or not, a lot of men consider personalized leather belts as some of those nice-to-have-but-don't want-to-spend-money-on things. For fear of being called vain by others, some of them would rather just wait to receive one as a gift than to save up for one. There is a good chance your man is one of those people wishing for the same gift idea. However, even if he is one of those who are willing to buy one, it's still better that you be the one to give a personalized leather belt to him. Right?