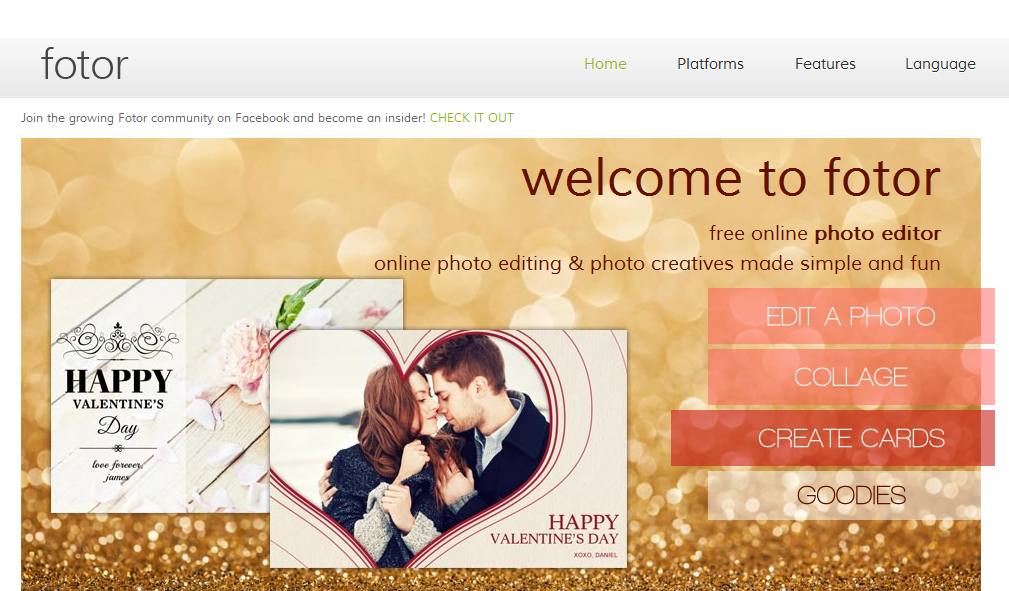 Amateur and professional photographers and people who take pictures for fun definitely know of and use several photo or image editing softwares. Adobe Photoshop or Adobe Lightroom are usually the preferred software but using them for minor editing is not practical since you would have to spend money. They have a free trial version but you can only use that for a limited period of time. So instead of using Adobe, it is better to just search the internet for free solutions especially if it is just minor editing that is required.
Fotor is a free online photo editing website which enables the user to edit his pictures, make customized photo cards for different special occasions; create cool and creative Collage (photo collages which includes template, montage, funky, photo stitching, and shape collages); and transforms images into a lifelike HDR (High Dynamic Range) image. Established in May, 2012, its goal is to bring a dominant and efficient yet easy to use professional level tool that everyone can utilize. It makes use of cloud computing to give a suite of high quality image processing tools that has a wide range of features. Users will be surprised at how sophisticated the software is. This commitment is kept in mind with every new product and version release.

Fotor's photo editor can resize and crop photos, adjust brightness, contrast, saturation, and sharpness, adjust the lighting curve, rotate, adjust the tone, colors, and straighten a twisted shot. You can likewise make your pictures more presentable and beautiful by adding photo frames and Efeitos para Fotos (effects), text, and clip art. They also have a one-of-a-kind color splash, mosaic, and tilt shift tools. For women who always want to look their best in pictures, Fotor also has a beauty retouching feature where blemishes and wrinkles are removed, skin is smoothened, blush is added, teeth is whitened, and red eye is eliminated. This Photo Editor is truly innovative and amazing!
It works across multiple platforms like iPhone, Windows, Mac, Windows 8, Android, and IOS so it is a handy tool to have. You can save your work in JPG and PNG formats when you are finished and share your images to your social networking sites like Facebook, Flickr, Picasa, and Twitter. If you are using the desktop version, you can also share your images straight from your desktop to your social sites.