Fashion Designing, the ongoing trend has grown into a full flourished industry. A lot of people aspire to become successful fashion designers; they want to paint their imaginations into reality. But, becoming a successful Fashion Designer isn't a walk in the park.
An early preparation, like from your high school followed by pursuing Bachelor courses will help you become a top notch designer and shall be a good start for you. For students in India, there are top B-Design Colleges in Mumbai that can help you shape your career.
Apart from this, certain skills and qualities are required to be instilled in a person aspiring to become a successful fashion designer and the article talks about the same. Let's discuss the 10 skills all fashion designing aspirants need to master one by one.
Highly Creative and Artistic
You should be highly creative and artistic for becoming a successful fashion designer. You should have a great sense of style and should be able to come up with new ideas of fashion. The more creative you will be, the more you will be able to deliver.
Strong Drawing Skills
It is the basic requirement that one must have to be a part of the design industry. One must possess excellent drawing skills; i.e. you should be able to sketch your ideas on the paper because if you are not able to display your ideas properly, you will never get what you want. Having excellent drawing skills also makes the other processes easy like if you draw your idea well then you can simply head towards the process of production.
Strong Sewing Skills
After drawing skills, you should have strong sewing skills because if you are able to construct the garments you design, you would make them exactly as you want. It is only you who can understand which materials will work best with your design.
Strong Business Sense and Business-oriented mind set
To be a great fashion designer, you should have strong business sense and business-oriented mindset. You must be able to understand budgets, marketing, and sales concepts that are required to get your products sold, so fashion designing also requires good business sense to be successful. You should always be business-oriented; you should make good contacts and strategy to promote your products in the market.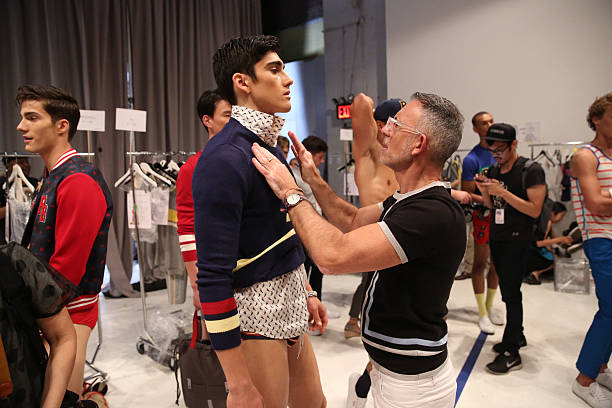 Good Communicator
A fashion designer must be a good communicator as the process of creating a garment involves many people and you must be able to effectively communicate to every person involved in the process to get your work done easily. Other than this, good communication skills will help you communicate better with your clients and you can easily make them understand how their work will be carried on.
Competitive Nature
You should be very competitive to be successful as a designer. You should continuously strive to do better than your competitors so as to be better than the rest. You should keep a check on your competitors about what they are creating. Also, try to be a step ahead than others.
Good Eye for Materials
A sound knowledge of the materials required for making your garments is essential i.e. you must be able to choose the best fabrics, colours for your products. This will help you in creating best dresses with best material.
Team Player
As the designing process involves a lot of people, you should know how to work with a team. You should get involved with each and every member of the team and should have a quality to make them work together as a team. A happy team will definitely give better outputs.
Know-how of Current Fashion Trends
For being successful as a fashion designer, you must be aware of the latest fashion trends. You must be able to understand the need of hour and the expectations of the customers from you.
Strong Visualization Abilities
To be a successful fashion designer, you must have an ability to visualize a garment even before putting the idea on paper. You should be able to visualize your product well before production. Being able to visualize well, you can also identify the material required for your garment.
Other than these qualities, a good fashion designer should be confident about his products and should always feel positive about his success. Good Luck!