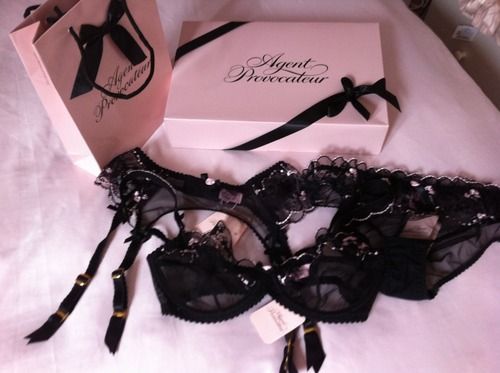 The eternal question on every guy's mind: should I buy lingerie for my girlfriend? Most men feel like this should be a good idea, but when they get in the panty store, they freak. Suddenly, they're anxious, nervous, and shy. Even the most manly of men can be turned into timid creatures in the lace section of Victoria's Secret. Here's what you need to know about buying sexy clothing for your honey.
Go Shopping With Her, Eliminate The Guesswork
It's amazing how many men take the sneaky approach when the direct approach guarantees results. Sure, you want to surprise her, but you also want to make sure she likes what she's getting. Lingerie isn't cheap after all.
So, for example, if you're shopping Spencer Gifts, don't be afraid to walk into the store with her and ask her about her interests, what she likes, and so on. She'll tell you. And, she'll probably appreciate your directness.
Snoop In her Closet
Snoop in her drawers, if you must. If you absolutely, positively, must make this a secret, you can probably get an idea of her size if you poke around in her unmentionables drawer. Just make sure you replace anything you disturb and don't make it obvious that you were sneaking around in her panty drawer. That can come off as being a little creepy.
Her closet might also be a great place to look if she already owns some lingerie that fits. Grab the size and go. Actually, grab a few sizes. What you'll quickly learn is that womens' sizes can be categorized as "S," "M," "L" and so on or by actual size like "32," "34," etc.
You don't want to grab a "S" only to realize the store you're shopping in uses actual sizes.
Verify Her Size If You Forget
If you forget her size, make sure you either tease it out of her or grab it from her closet once more before you head out the door. This can't be overstated.
Bra and Panty Advice
There's an excellent article in GQ that goes over this very topic. Basically, when in doubt, black is the color of choice for panties. And, a multi-way bra is guaranteed to please almost every woman – almost. Everyone is different, and some ladies demand pushups while others are begging for a breast reduction. This is why nailing your sweetie's tastes is important. Without that insider info, you're guessing and guessing is a great way to make gift faux pas.
Get Advice From A Retail Specialist
Know that places like Victoria's Secret were created with the sole purpose of embarrassing and intimidating you. But, the retail specialists in most of these stores are the nicest and most outgoing