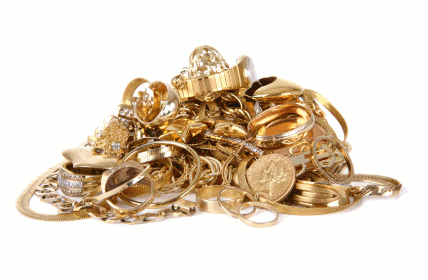 In uncertain economic times, jewelry and coins always retain their value. Coins and jewelry pieces are very liquid as they can be sold at anytime for fair prices. It's important to understand the various factors involved in determining the market value of jewelry, coins and other forms of currency. First and foremost, the precious metal content of a gold is a very important factor in the final sale price. The purity of gold coins is usually rated in 12K, 14K, 18K, 20K and 22K denominations. Naturally, a high purity rating yields a higher market value for a gold coin. By knowing the purity and weight of a gold coin, the value can be calculated at any instant. The only factor that fluctuates is the market price of gold, which changes slightly on a daily basis. However, the price of gold per ounce has been been reaching record highs during the recent U.S. economic recession.
Another factor that plays an important role in the value of a gold coin is age. The older the coin is, the more rare and valuable it is considered to be. For example, a gold coin from the 16th century is more valuable than a coin of the same purity and weight from the 20th century. Gold coins have been minted since ancient times. Most coins from early civilizations are now on display in museums and private collections as historic relics and not currency. For example, it would be impossible to estimate the market value of a gold coin that was minted during Ancient Roman times. In general, foreign gold coins tend to be more expensive than American gold coins when dealing on the American market. Trying to visit a numismatic dealer is an example of searching for a great purchase or sale deal on gold coins that are minted in the United States.
Paper currency can also be very valuable depending on several factors. For example, the United States has released different dollar denominations for brief periods throughout the country's history. A 5 dollar bill minted during the Civil War in the United States has tremendous historic value in today's market. Experienced numismatic dealers usually know the history behind all of the currency circulation of the United States dating back to the earliest federal reserves and mints. Rare American coins that are not made of precious metals can still have high value in today's market.