Are you going to be wed on a beach or any tropical destination? Or maybe overseas perhaps? Then you should be planning ahead of time to ensure the success of your wedding. Now, preparations for these kind of weddings are doubly hard than the usual wedding because most of the details will heavily rely on the destination that you are about to go into. The food, the decors, as well as the theme must go along with the venue and this includes the wedding dress that is going to be worn by the bride. Now what are the best styles of gowns to be worn during destination or beach weddings? Read along this post as we are going to know some of the best gown that a bride-to-be can wear on destination weddings.
1. Sheath/Column Straps Court Train Sleeveless Chiffon Wedding Dress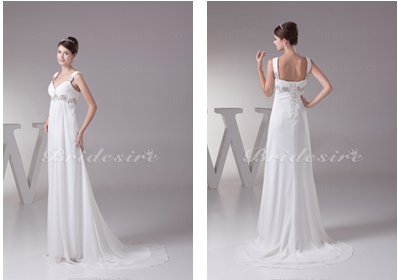 Why wear this wedding gown: Gowns for wedding venues such as this has a practical design which is very suitable for beach or destination weddings. It's simple, it's light, and it's made of comfortable fabrics and it goes well with Vera Wang's bridesmaid dresses for 2013. These are some of the benefits you can get aside from being a beautiful bride at your wedding. This dress is available on thegreenguide.com.
2. Mermaid V-neck Floor-length Sleeveless Satin Wedding Gown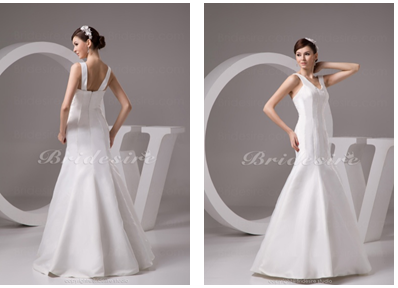 Why wear this wedding gown: If you want to look stunning and sophisticated at your destination wedding, then this style of gown is a must-have for you. Although it lacks in intricate design, the sheer cut and stylish linings alone makes this gown a regal wedding dress for any bride-to-be.
3. Sheath Elastic Silk-like Satin Scoop Court Train Wedding Dress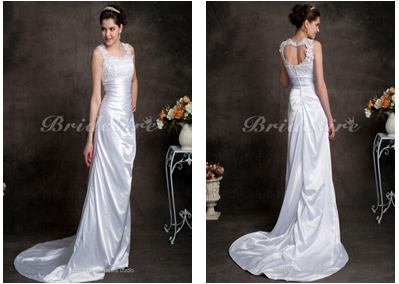 Why wear this wedding gown: Silk defines elegance and it can be seen entirely on this dress. Aside from that, the intricate embroideries at the upper part of the dress make it look all the more pretty and exquisite which makes it a perfect match for your beach or destination wedding.