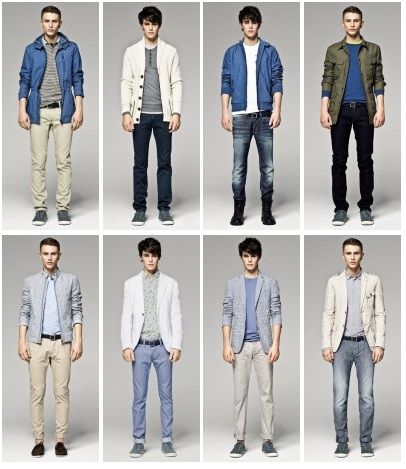 Men seem to have it easier than women when it comes to selecting outfits to wear.  This is especially true when it comes to the difference between formal and casual wear.  For men, formal wear is formal – a suit.  There isn't much else to it.  However, the only thing is, for men, there are lots of different levels of casual, and it is important to make sure that you wear the right one for the right occasion.
Dressy Casual
 Dressy casual is probably the hardest to dress for because it is so dependent on the situation in which you are going.  However, if you need to wear casual clothes, but still want to look really nice, you should focus on the following:
Depending on where you are going, this means either wearing nice slacks or dressy jeans by Debenhams.  If you wear slacks, you should wear nicer shoes.  If you are going with dressy jeans, you could get away with less formal shoes, but either way, the shoes should be in excellent condition.
For shirts, this usually means button down shirts (possibly short-sleeved), and possibly a jacket.  You don't want to over dress, but a jacket can make anything seem a little more dressy.
 Regular Casual
 Regular casual is what you will wear out with friends on the weekend.  This is usually regular jeans or shorts, and a polo shirt or a tee shirt in good condition.  For shoes, you can usually just wear nice sneakers or other shoes, but still make sure they are in good condition.  Depending on the season and location, you could even wear flip flops with jeans or shorts.
 Weekend Around-the-House Casual
 Finally, you just have your regular around the house casual clothes that you can wear at nights and weekends when you are staying in.  Don't buy anything here!  Just utilize your older shirts, shorts, and pants that you just don't want to wear our with friends anymore.  This is for your family's eyes only!