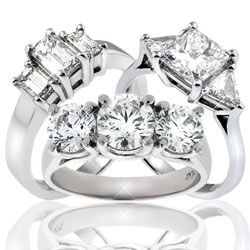 Whether you want to say "I love you" with the perfect anniversary ring, pop the question with a dazzling engagement ring, or stand out in a crowd with a stunning necklace or brilliant diamond earrings, you can find the best fine jewelry from top-notch jewelry designers. Designers use high-quality diamonds and precious metals such as platinum, gold and white gold to create beautiful designer jewelry in a variety of styles, ranging from chic and contemporary to stately antique and vintage designs.
Designer jewelry choices include unique rings and one-of-a-kind bracelets, earrings and necklaces. Whether you want a watch that sparkles with carefully placed diamonds or an engagement ring unlike any other, you can find the best style to suit your needs with designer jewelry. Choosing designer jewelry guarantees you the best quality and widest selection of unique designs.
Engagement Rings
Engagement rings are the most popular form of designer jewelry, and it's no wonder – finding the perfect ring to showcase your love to the world is no small task. Designer engagement rings allow you to stand out from the crowd by donning the most innovative, dazzling and elegant ring styles. Some designer engagement rings allow you to customize the ring to best suit your love's style and tastes. Whether you go for a vintage engagement ring, a three-stone engagement ring or a contemporary engagement ring, designers give you the best options for the most elegant and unforgettable bauble.
Award-Wining Rings
Award winning designer engagement rings offer dazzling designs that stand out in a crowd. Jewelry designers such as Danhov make or assemble all rings by hand, so each piece is as unique as the individual wearer.
Danhovengagement rings combine the classic elegance of traditional engagement ring designs with an added touch of glamour for unique,award-winning rings that continue to captivate lovers everywhere. Danhov's Eleganza Collection brings glam to the forefront, with diamond-studded bands and brilliant diamond center stones sure to dazzle. The Danhov Eleganza Round Braided Engagement Ring features a delicate braid design on the band and setting, with diamonds lining the braid. The center stone makes an eye-catching focal point for the innovative design. Ring wearers can provide their own center stones for truly unique pieces that are mounted by Danhov for free. If you do not have a stone in mind, Danhov provides assistance selecting the perfect stone cut and design to suit your heart's desire and create the best engagement ring for you.