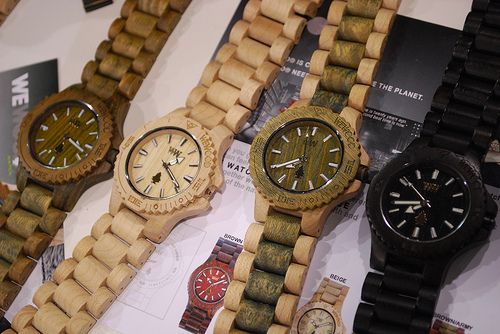 A lot of new pieces came out recently in the fashion industry that may be right on trend very soon, one of them was the new wooden designed watches – (see above photos). Actually, wooden watches were released last year, however, due to some unknown instance and how peeps were more focused on other trendy pieces at that time, wooden watches became kinda the outcast in the clan and they were forgotten. Maybe because they are kinda strange for peeps to have on and because they are used to having well known 'metallic's' or 'designer watches instead of the wooden kind of watch, wooden watches add a real style statement whereas designer watches are great for adding a touch of class.
But now, as fashion evolves so fast and as people accept quirky things when it comes to their fashion, thanks to celebrity influences, wooden watches are more than likely going to be considered by these fashion forward enthusiasts. But I am not saying that branded watches are not hip today, they are still on trend, I think wooden watches are just one of the new 'hot pieces' of today and with the sunny days upon us they will become the more appropriate choice for the summer heat, yeah! I think adding up some new materials and statement your accessories like this wooden watch ,is a must if you wanna rock yourself into summer! They will definitely spice up your beach look! You can check out Google for some look-book photos or styling tips to mimic celeb styles and spruce up your summer outfits.
I still suggest some great designer pieces such as women's stunning Cartier watches or men's omega watches at David M Robinson as you are not comfortable on wearing such wooden stuff there. Because omega watch are still trendy and they're really great with their collections of watches that even celebrities are still patronizing these days.