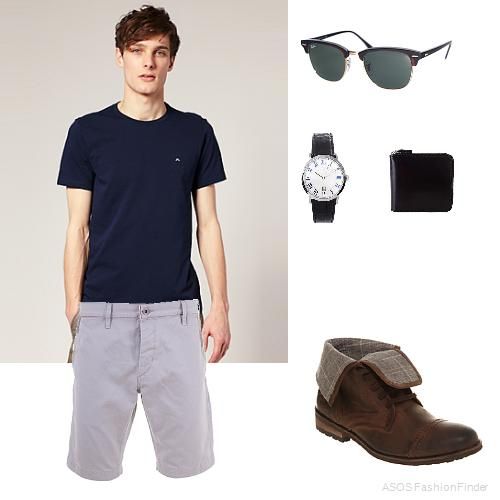 Men want to look fashionable this summer too. Attribute it to "metrosexualism" or "manity" all you like, but the truth is that most men are not slobs and actually care about their appearance. Whether it's spending a little extra to look good or finding a nice pair of cheap sunglasses you can lose, you always want to know what's fashionable so you aren't stuck looking like a fool.
For men who fit this bill, check out some of the must haves for summer 2012 listed below.
V-Neck Tees
In fashion for the past half of the decade, V-Neck tees are still very much in style. Deep v's have been featured in Summer 2012 runway looks in bright, bold colors. However, these colors are very rich, not the neon color trend of a few years ago. Its is safe to say that these tees will continue to stay in style for a few more years, so they are a good investment. Gap and American Apparel are great places to find v-neck tees.
Horn-rimmed Sunglasses
Every guy needs to buy a new pair of sunglasses for the hot and sunny summer weather. This year, horn-rimmed glasses are a stylish choice for men. This style is part of the vintage sunglass trend that is overtaking America thanks to the hit series Mad Men. Other popular vintage style sunglasses include round glasses and aviator lenses.
Camel Blazers
Even in the summer, sometimes it can get chilly at night. When this happens, cover yourself up with a sleek and stylish camel-colored blazer. Blazers help to give men a very polished look, and camel is a wonderful summer color that can also bleed over to fall. Whether you are looking forward to a night on the beach or a night out on the town, a camel blazer will help to give your outfit that classy look that is so popular for men.
Orange and Blue
Orange and blue are the two unique colors of the season for men. Many men's clothing will have these colors presented in bold and bright hues. While your first instinct may be to think of a Florida Gators football game, do not at all worry. The orange and blue trend for men is done in a classier way than the University of Florida's sports jerseys. When thinking of men's fashion for this summer, the easiest way to sum it up is in three words: classy, classic, and bold.