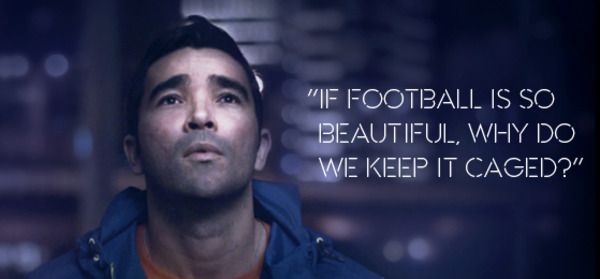 Everyday life has become so busy and fast-paced that I sometimes get the feeling that I do things automatically just like a robot. Because of this, I do not get to enjoy the good things in life the way I used to. There are even times when the activities that I once loved doing no longer appealed to me. I have become less passionate about them which I know is something that I should instantly curb otherwise I would be living an unhappy and meaningless life. I realized that I am too serious and rigid and that I am living life for all the wrong reasons.
This is pretty much the same message that Tiger Beer's latest campaign, Tiger Street Football 2014, conveys. It is more easily understood because of a short video featuring Deco (Anderson Luís de Souza), a retired Brazilian-born Portuguese professional footballer, who happens to be one of the few players to have won the UEFA Champions League with two different clubs – FC Porto in 2004 and FC Barcelona in 2006. It shows him walking in an empty stadium, thinking how football is such a beautiful game. He thinks that sometimes instead of playing with their hearts, people play with their heads. They lose track of why they play football in the first place. Since football is so beautiful, Deco wonders why people keep it caged and says that true football should be free. This means that it can be played anywhere, even on the streets (as symbolized by the stadium exploding), with fun and passion.
Tiger Beer, the world famous Singaporean beer brand brewed in 11 countries and available in over 75 countries worldwide including Europe, USA, Latin America, Australia and the Middle East, presents #uncagefootball, transforming football for the better and "uncaging" it from its traditional chains through Tiger Street Football 2014 which is a great break from traditional football. Fans are invited to share their views on what they love and hate about football by July 28 and suggest new rules for the game by visiting the Tiger Uncaged Football Website. The fan with the best rule suggestion will win a trip for two to Barcelona and will meet Deco. Only those from Singapore, Australia, and Cambodia can join.
Please visit the Tiger Facebook page to stay updated with the latest information about Tiger Beer and subscribe to the Tiger Youtube channel to view all their campaigns. You can likewise spread the campaign by tweeting and sharing Deco's video on the Tiger Twitter page using #uncagefootball.
Sponsored By: Tiger Beer